Like (2019)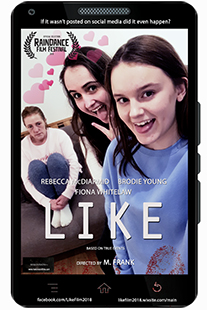 In England, two teenage girls were charged with murder after videos and photos from their mobile phones were posted on social media.
Based on true events, Like explores teenagers' complex relationships and how online status often determines social acceptance.
OFFICIAL SELECTION: Raindance Film Festival - 2019
NOMINATED - BEST FEATURE FILM: Copenhagen Annual Film Festival 2020
Anonymosity (2015)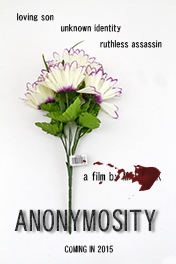 Anonymous is a hit man who works for a foreigner known only as 'The Farmer'. Anonymous insists he is never told the targets' names or reasons why they are to be killed. Every penny he earns from the hits is spent on hospital bills for his brain dead mother who is in a coma on life support, never to recover. Whenever hospital bills are due, he accepts another job.

The doctors advise Anonymous that intend to turn off his mother's life support. Farmer offers Anonymous a hit on an important person where he will make enough money to never worry about a hospital bill again. Desperate to keep his mother alive, Anonymous accepts but is told his mother has died of natural causes. His motivation gone, Anonymous is unable to perform the hit. Now Anonymous himself becomes the target for execution.
AWARDS: BEST CRIME FILM - Mediterannean Film Festival 2017
OFFICIAL SELECTION: Canada International Film Festival - 2016

Giuseppe, a young woman from Matera has been forced to endure life with a boy's name. She yearns to become a mirror image of her older sister Calogera who ran away to Sicily several years before. Calogera has become disillusioned with the exotic Sicilian lifestyle she escaped to. She misses Giuseppe and the simple life of Matera and desperately wants to return home. Both sisters embark on a journey across southern Italy in search of each other, encountering challenges and haunting coincidences along the way. Giuseppe discovers a shocking truth about Calogera which not only creates doubt about the sister she thought she knew so well but forces her to reconsider her own existence.
OFFICIAL SELECTION: Monaco Film Festival– 2009; Portobello Film Festival London- 2009
               
'RA CHOI' is a Vietnamese expression, which translated means "Coming out to play", referring to the immersion into street life.
Set in a Vietnamese populated suburb of Sydney, Ra Choi is the story of an Asian 'gang' down on their luck and trying to make a life for themselves.
Ra Choi is a moving and emotional journey where the strength of the human spirit is often the only hope they have in their intertwined lives.
"Ra Choi is solid as a rock, uncompromised and made with real talent and integrity. An excellent first feature by anyone's standards" - Megan Spencer, SBS Movie Show
"Driven by a brand of honesty and realism rarely seen in the cinema, Ra Choi takes on a range of tough issues with stand-tall bravery while also telling a deeply human story that will ultimately break your heart" - Erin Free, Filmink Magazine
"Frank's cinematic instincts are well showcased here... a welcome exploration of the areas of Australian life that hardly ever make it to our screens" - Andrew L. Urban, urbancinefile.com.au
Distributed through Galloping Films
*Australian Writers Guild AWGIE Awards 2005 – Best Feature Film
*Worldfest Houston 2006 – Winner Gold Remi Award
*National Literary Awards 2005 – Commended
*Australian Cinematographers Society (ACS) Awards - Silver award (motion picture)
OFFICIAL SELECTION: Sydney Film Festival 2006, London Australian Film Festival 2006, Rome Film Festival 2006, Cinemasia Amsterdam 2006, Budapest Intenational Film Festival 2007, St Petersburg Film Festival 2007, Berlin Asia Pacific Film Festival 2006, Cork Film Festival 2007